In A3L, the main law enforcement branch is the Police Department. Formerly, the Lakeside Valley Sheriff's Office had Jurisdiction in Lakeside, until the recent return of the Police Department.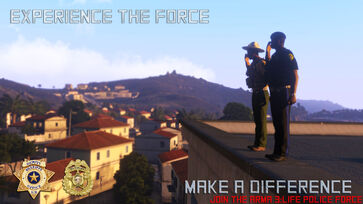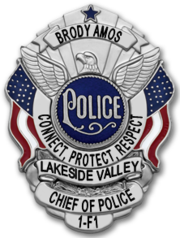 A police force is a constituted body of people empowered by the state to enforce the law, protect property, and limit civil disorder. Their powers include the legitimized use of force.
The main purpose of LSVPD is to keep the civilians safe. They use their powers to protect the civilians and fight the crime
Departments
Edit
The LSVPD High Command is as fol
Assistant Chief
Darrell Kincaid
Patrol Department
Edit
Patrol Department

Some attributes

First
Major - Rick Mustafa
Second
8 Command Personnel
Third
65 Patrol Officers

Other attributes
Patrol is the primary department of LSVPD. Patrol is the first department all officers will join, and is where they will receive all their basic training as a cadet. Their main focus is to have a presence on the streets of Lakeside and keep its citizens safe. Patrol are trained in crowd control, securing crime scenes and a lot more. They help the other departments and assist where ever they are needed..
Current Command Staff
Edit
Major
Captain
1-C1 Devin A Little
1-C2 Dimitrion Simpson
1-C3 Anthony Winters
Lieutenant
1-L1 Matt Wazowski
1-L2 John Richard
Ad blocker interference detected!
Wikia is a free-to-use site that makes money from advertising. We have a modified experience for viewers using ad blockers

Wikia is not accessible if you've made further modifications. Remove the custom ad blocker rule(s) and the page will load as expected.